We live in the smart era of 4.0, where Google has become one of the integral parts of our life. Catering solutions to a sphere of various purposes, Google has transformed itself into a verb over a period of time. It is as simple as we say it,  just google it.
This blog is a gateway to Google tricks, introducing a plugin of ease to your google journey. Presenting you with a complete guide to Google tricks and tips for transforming you into a google geek.
Before beginning with an expedition of changing your tune to Google nerd, let's first learn the ropes of Google tricks.
What are Google hacks & tricks?
Hacks and tricks are a simple way to make your google journey a cinch. These hacks & tricks beat the clock and serve you a better route for your seek. 
Our blog is here for you to cut the line of endless searches and unrelated links and leads.
Google hacks to Enhance Productivity
When we talk about work with Google, it's less of hard work and more of smart work. 
A digital marketing tool shaping the future of marketing and advertising. TWG is a comprehensive sphere made of marketing ideas and strategies, elevating website visibility, monitoring and tracking the rank of the keywords, and exploring trends and forward-looking perspectives. 
Think With Google is a door of Google hacking trick that one can knock on to discover a whole new world of marketing solutions and ideas.
2. Find Specific Files on Google
Google tricks your hard work by putting millions of hours of effort into looking for a particular into your smart work of opting for one of the Google search tricks. While looking for a particular file, you can use the filetype: operator in Google Search. It eliminates unrelated results and limits your search to a specific file type or file extension.
If you are looking for a pdf on "Personality Development" then you should Google as shown below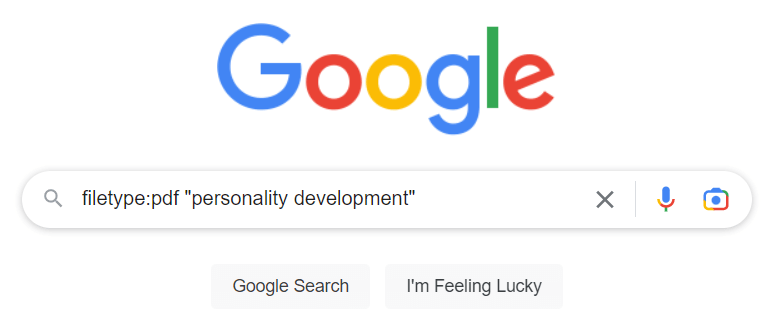 3. Check Spelling of Complex words
Many users use google for spell check, but do you know there is a smarter way of checking your spelling?
Take for example you want to check the spelling of "mischievous". Go to google in your phone or desktop and start typing the first 3-4 letters of the word and google should show your recommended searches.
4. How to use Google Calculator
Mathematics has not always been people's best friend. But don't worry Google tricks list got your back, no matter how complex the problem is. 
You just apply one of the simplest Google search tricks of typing the problem as it is in the Google search bar will get you the solution in less than a second.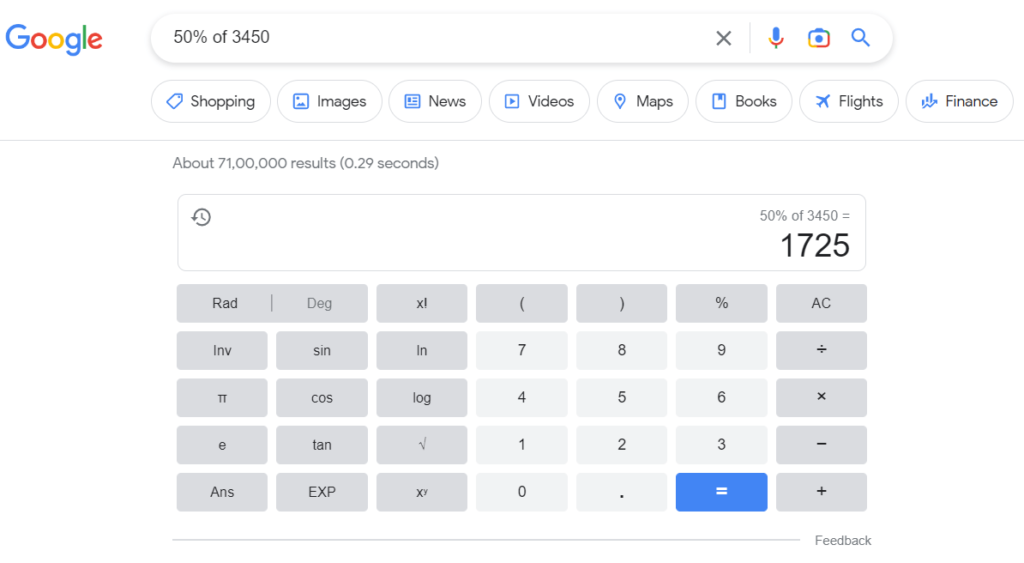 5. Convert Numbers to Words - Learn how to say really BIG numbers!
As we say what's in a name but when it comes to digits and numbers there is a lot in the name. 
With Google tricks, you can learn how to pronounce the number, no matter how long it is. Just use one of the smartest google search tricks of typing the number and adding in words, and the answer will appear in less than a second.
type 'the big number' in words into google search bar
6. Perform Quick Currency Conversions
Google tricks list is your financial budget in a new country, helping you to convert currency with the most accurate and fast results. 
you can use Google search by typing "from [currency] to [currency]" (e.g. "from USD to EUR") to see the current exchange rate, as shown on the image below.
type '6570 USD to INR' into google search bar

7. Use Google for Timer and Stopwatch
Day-to-day activities are also covered by Google tricks like setting an alarm or using a stopwatch or timer.
Google tricks list includes weather forecasting as well. You can simply use Google search tricks to search weather conditions in any part of the world.
type 'stopwatch' into google search bar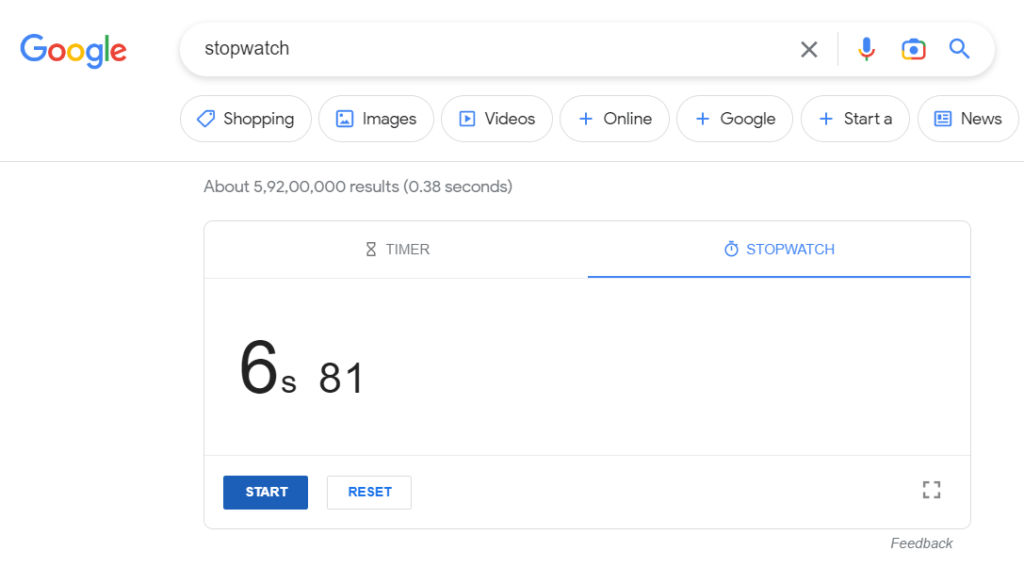 8. Most Useful Chrome Shortcuts You'll Ever Need
Entering a website or link on a daily basis, create a shortcut key on your chrome. This is one of the fun Google tricks, making navigation easy.  
Below is the filtered list of all the most important shortcut keys you can start using from now!!
| Function | Chrome Shortcut Keys |
| --- | --- |
| | |
| Open a new window in Incognito mode | |
| Open a new tab, and jump to it | |
| Reopen previously closed tabs | |
| Jump to the next open tab | |
| Jump to a specific tab serially | |
| | |
| | |
| Minimize the current window | |
| Take a Screenshot of the current webpage | |
| | |
| Save your current webpage as a bookmark | |
| Turn full-screen mode on/off | |
9. Access all email in one place with Gmail integration
Import your domain email into your Gmail account, Get all your Private emails right in your Gmail inbox.
Stay updated even when you are not logged in. It's one of the Google tricks providing you with a convenient solution to be active. Make all your emails under one roof, just a click to jump to another email account.
What you'll need –>
For receiving emails
POP Username (your email address)
Password (your email password)
POP Server/hostname (this is different for different email service providers, Google it with you email providers name)
POP port (you should get this from above searched result)
For sending emails
SMTP Username (your email address)
Password (your email password)
SMTP Server/hostname (this is different for different email service providers, Google it with you email providers name)
SMTP port (you should get this from above searched result)
Follow the below Video, it's shown step by step what you'll need to do.. 
After you are done, just refresh your mail box and you should see all the emails from your other account you just added. For sending, you should get two options when you are sending mails as to which account you want to send the mail from. Check ref below
10. Find the Perfect Image Size with Google Image Search
Search for an exact image size by using this one of the simplest Google search tricks. Follow four simple steps: 
Step 01: Go to images.google.com. 
Step 02: Enter the search terms 
Step 03: Then append imagesize:WIDTHxHEIGHT to your query 
Step 04: Hit Enter
This will lead you toward results that match a specified image size.
11. Doing a Survey? Try Google Forms
Google tricks help you to conduct a survey for any specified study. There are google forms that you can create and circulate amongst your TG. Google forms automatically create charts of your findings to help you conclude.

Google tricks now hold the answer to yours's TG's psyche as well. 
12. Learn to Pronounce Complex Words
Having difficulty pronouncing "colonel", well same here. But Google got our back, just use one of the most direct Google search tricks of typing the word and adding the word pronounce to it. 
A section with a lip will pop up as a result which allows you to manage the speed. Hence, making you completely understand how to pronounce that specific word.
type how to pronounce 'your word' into google search bar
Google Tricks for Fun / Google Games
Google doesn't limit itself to work, it holds a whole new world of tricks when it comes to fun.
Google tricks for fun are all about interesting commands leading you toward fun results. Listing below some google magic tricks:
13. Play Google Snake Game on the Go
Google games hold some classics as well, the legendary snake game. All you have to do is type google snake game on the search bar and the game will appear in the results. 
type 'play snake' into google search bar
14. No Internet Connection? No Problem! - T Rex Dash
Google tricks don't stop with your internet, even when there is no internet service, Google always has a way to entertain you. T Rex Dash is a game that automatically appears on a screen when your network is down.
All you have to do is press the spacebar and the main character will start jumping on the moving screen dodging obstacles.
15. Play Google Memory Game
Do you have a good memory and a love for classic games? Then you'll love Google's Memory Game! This hidden feature is a fun and challenging way to test your memory and pass the time.
type 'play memory game' into google search bar
This is one of the Google fun tricks, bringing back the nostalgia of noughts and crosses. Search Tic Tac Toe on the Google search bar and play this classic game with Google. 
type 'play tic tac toe' into google search bar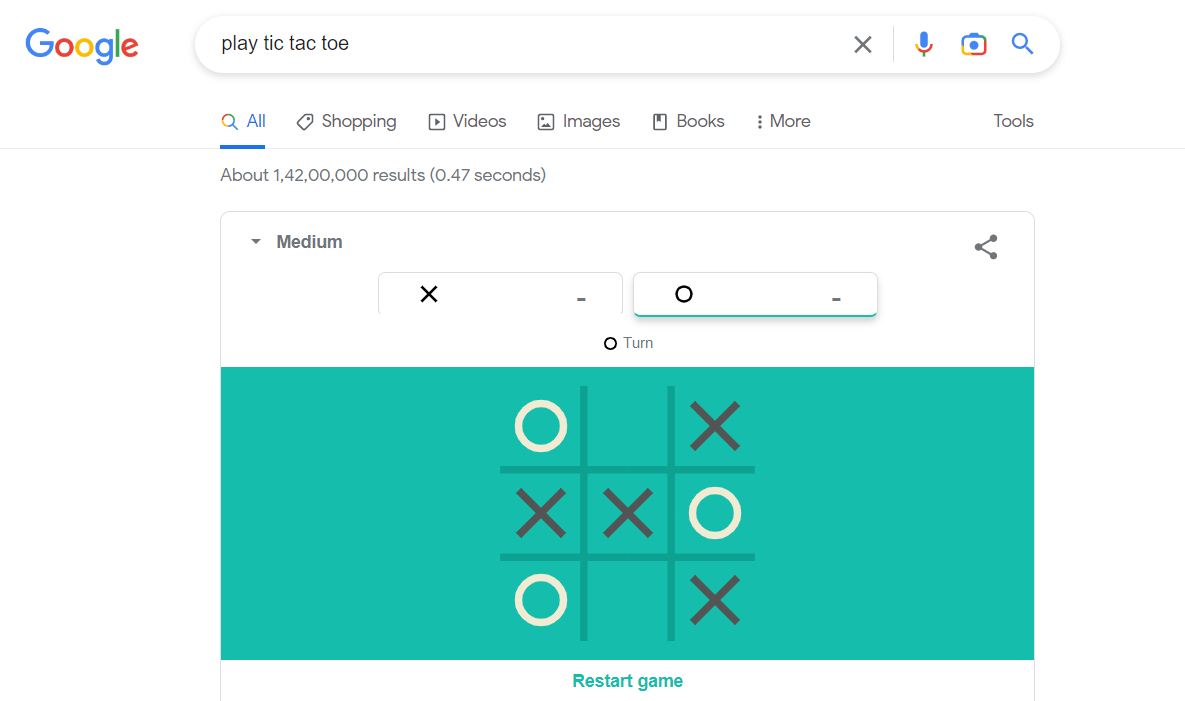 The legendary Pac-Man is now on Google. All you have to do is search Pac-Man on Google search, and a version of Pac-Man will appear in the Google Search. You can even unlock a two-player mode that adds Ms. Pac-Man to the classic game.
type 'play pacman' into google search bar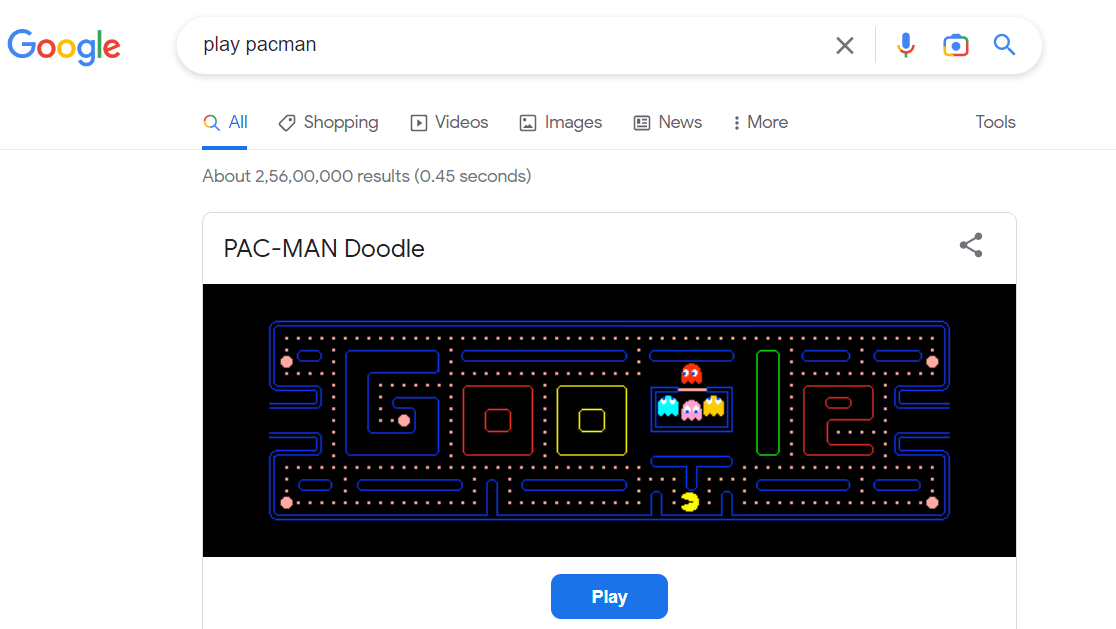 If you want to make Google spell google backward, then you can type in "do a barrel roll" in the search bar.
type 'do a barrel roll' into google search bar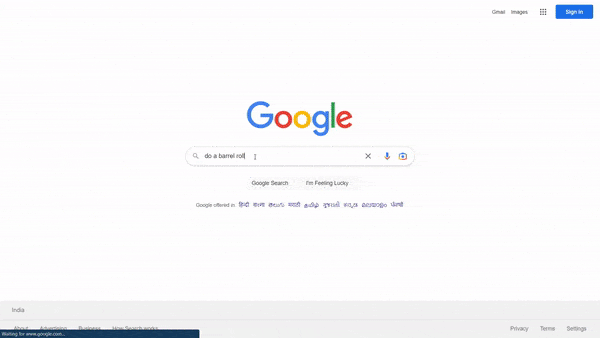 Google Tilt/Askew causes the page to be tilted, leaning down, left to right. Find out the secrets in Google askew search.
type 'askew' into google search bar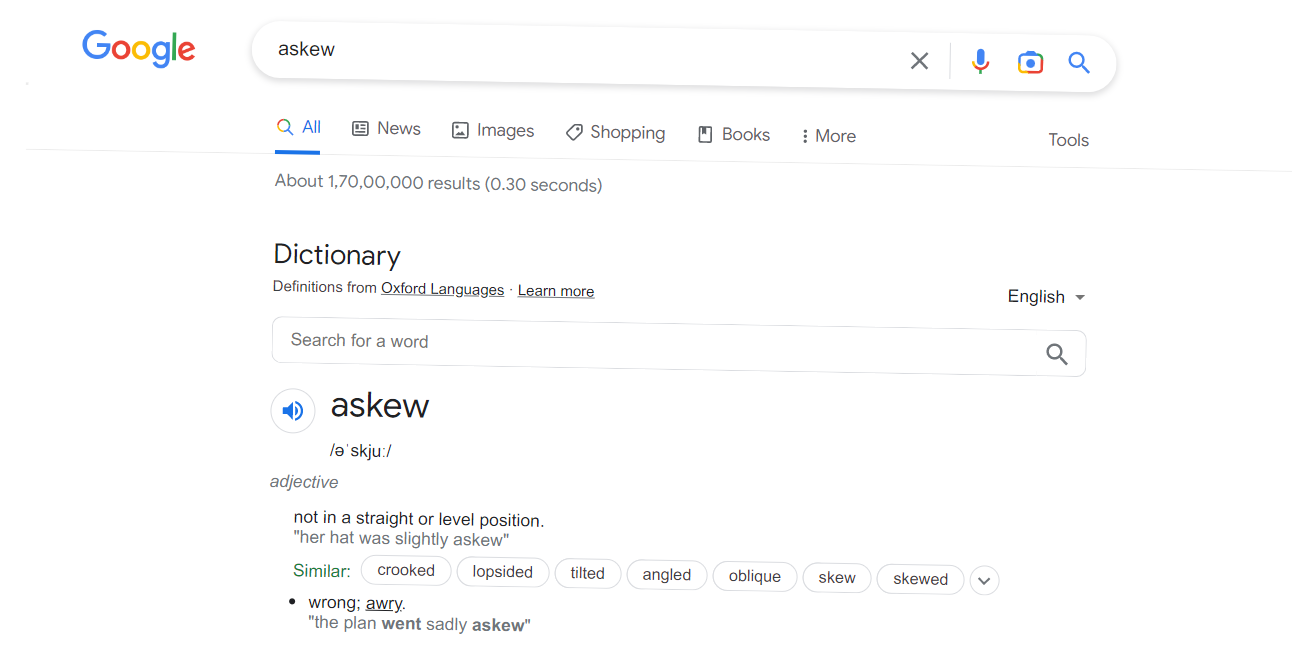 20. Recursion loop on Google
In recursion, the objects are repeated infinite times. The iteration runs forever. 
When you search for the term "recursion" on Google, the search results page displays information about the concept of recursion. However, in order to understand the concept of recursion, you need to know what it means.
This creates a paradox, as you cannot understand the meaning of recursion without already knowing what it means. In this situation, Google tries to provide a definition of recursion on the same search results page, in an attempt to break the cycle and help you understand the concept.
type 'recursion' into google search bar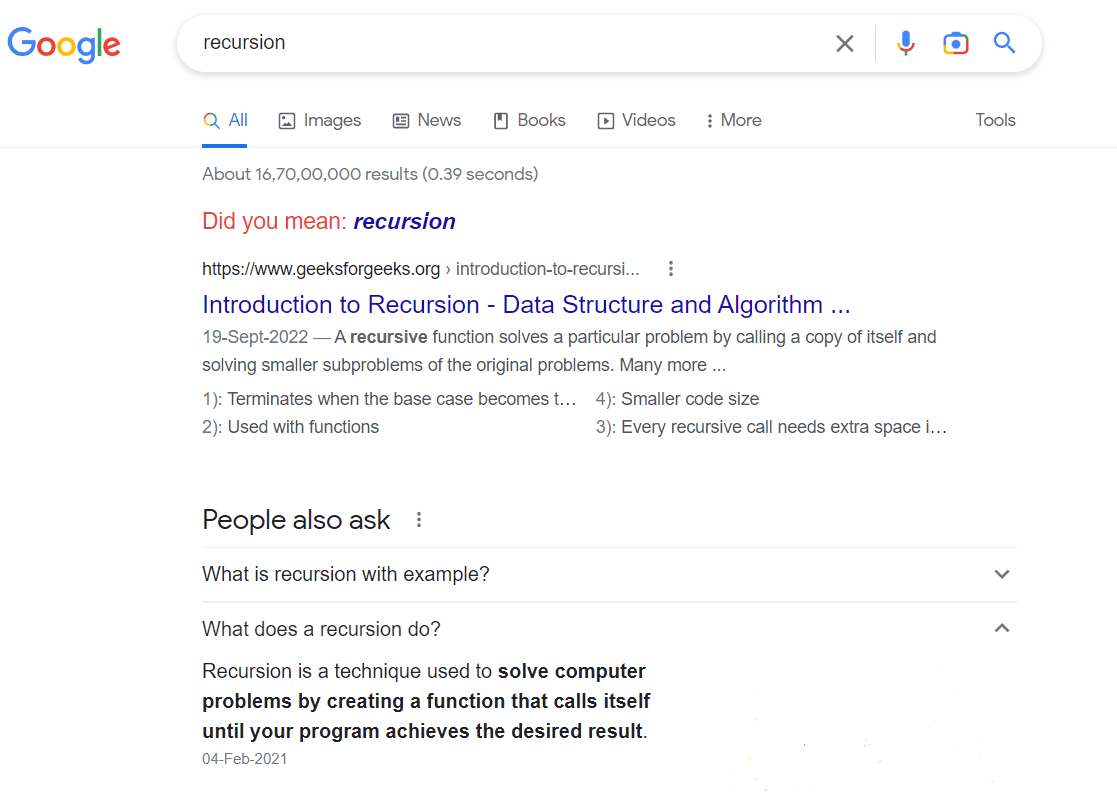 It's a command that shows you one of the fun Google tricks for showing the display breaking. 
type 'google gravity' into google search bar and click on I'm feeling lucky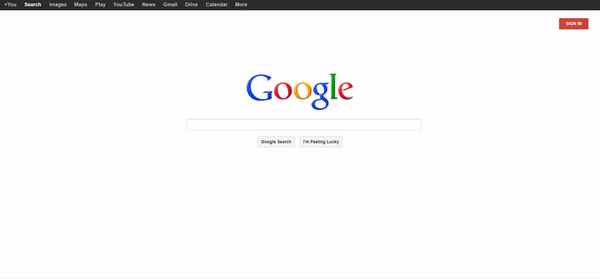 When you perform this search, a Thanos-themed animation will appear at the top of the search results page. If you click on the animation, it will cause half of the search results to disappear, just like in the Marvel Cinematic Universe when Thanos snapped his fingers and wiped out half of all life in the universe.
Atari Breakout is one of the hidden Google tricks opening up a game that transforms the Google image section into a playable classic arcade video gaming zone. 
type 'play atari breakout' into google search bar & click on the first result
Google Tricks for your Personal Life
Google tricks can add some excitement and convenience to your personal life. 
From finding the best route to your destination to settling a friendly debate, Google has a variety of helpful and fun tricks that can make your daily life a little easier and more enjoyable. 
So next time you have a question or need some help, remember to utilize these useful Google tricks to make your personal life a little more seamless and fun.
24. Google Breathing Exercise
The Google Breathing feature provides users with a visual and audio guide for practicing deep breathing techniques.
By incorporating deep breathing exercises into your daily routine, you can potentially experience the health benefits of this simple but effective relaxation technique.
type 'breathing exercise' into google search bar
Stuck in between two options? Let Google Help You
"Flip a Coin" feature is a tool that allows users to virtually flip a coin to make a decision. It can be a useful and convenient way to quickly resolve issues that require a random outcome, such as deciding who goes first in a game or choosing between two options. 
Overall, Google's "Flip a Coin" feature can be a helpful and entertaining tool for those seeking a quick and easy way to make decisions or resolve disputes.
type 'flip a coin' into google search bar
26. What's My location/IP address?
Type "What's my IP address?" Google will serve you with your IP address within less than a second.
The "What's my location?" feature on Google is a tool that allows users to see their current location on a map. This feature can be useful for a variety of purposes, such as:
– Orientation
– Navigation
– Emergency situations
– Personal safety
type 'what's my location' into google search bar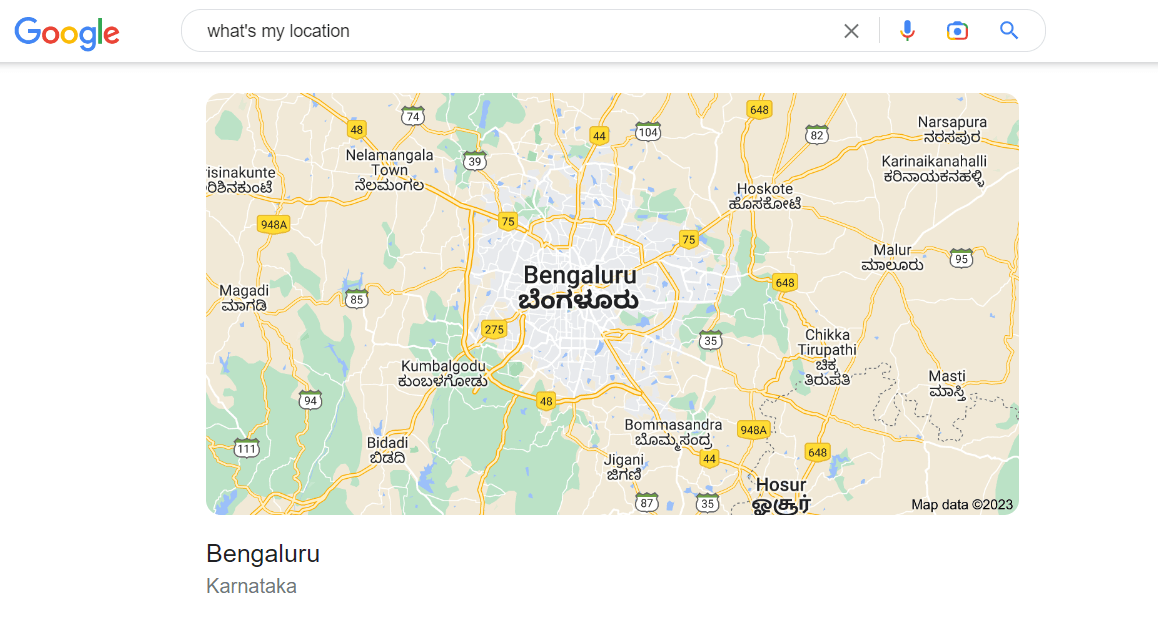 Your location must be turned on for it to work
27. Create a Self-Destructing Email
Taking the art of confidentiality to the next level. All you have to do is follow the following steps:

Step 01: Start a new email, then select the Confidential Mode icon (the lock and clock). In the app, select the three vertical dots > Confidential Mode.
Step 02: Choose how long you want the message to last and whether or not it requires a passcode in the options window. Select Save.
Step 03: Compose your message and send it as normal.
Note that the recipient must use a Gmail account in order to view a confidential email, and they must also have Confidential Mode enabled in their Gmail settings.
Follow the video for detailed info
Tap on the microphone icon on the Google search bar, and narrate your question, query, or anything to google assistant.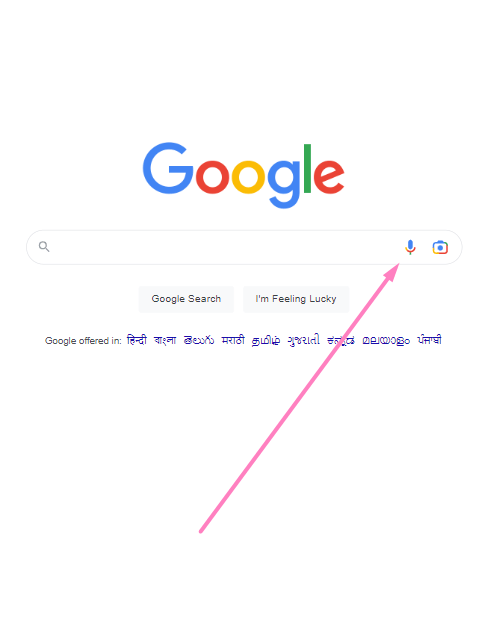 29. Download Movies with 5 Clicks - No ads
Step 1: Google the following query (replace the movie name with yours, just keep the format exact)
Index of./no.time.to.die.mkv
Step 2: You'll find lots of pages that has this movie available for downloading and you can download directly by clicking on the particular file you want
Note: If you are getting slow speed, try another site.
Don't believe us? Watch the video and see for yourself – no pesky ads guaranteed!
30. Find Similar Websites
You can use the related operator to find similar websites on Google. Just type related: sitename.com in the address bar and hit enter.
type 'related: netflix.com' into google search bar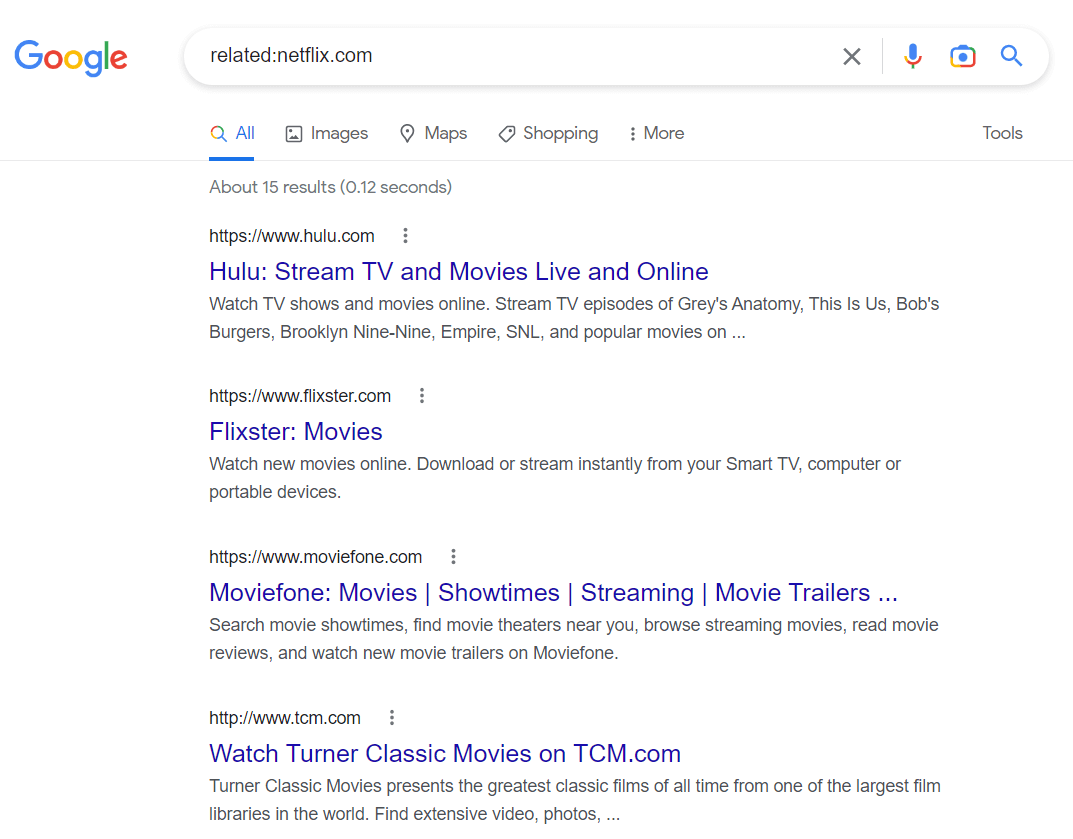 31. Get Current Stock Prices
Modern problems require Modern Solutions

GOOGLEFINANCE, a Google spreadsheet function that helps you make wise investment decisions. 
In Sheets, open a spreadsheet.

In an empty cell, type = GOOGLEFINANCE.

In parenthesis, add any of the following, separated by a comma: A ticker symbol in quotation marks. (Optional) The attribute you want to show, such as price, in quotation marks.

Press Enter
32. Find, Lock, Unlock, Erase Your Android Phone Remotely
Smart is not just a word anymore. Smart is the future. Smart is Google
Remotely find, lock, or erase
Go to android.com/find and sign in to your Google Account. If you have more than one phone, click the lost phone at the top of the screen.
The lost phone gets a notification.

On the map, you'll get info about where the phone is.

Pick what you want to do.
Note: You must be logged in to the same google account in both the devices (Mobile/PC)
33. Narrow Down Search Results by Date
Use one of the smartest Google search tricks. Just click on the Tools tab, and the navigation bar will display two additional dropdown features: Any time and All results. With the Any time tab, you can easily filter results on the basis of Publish Date.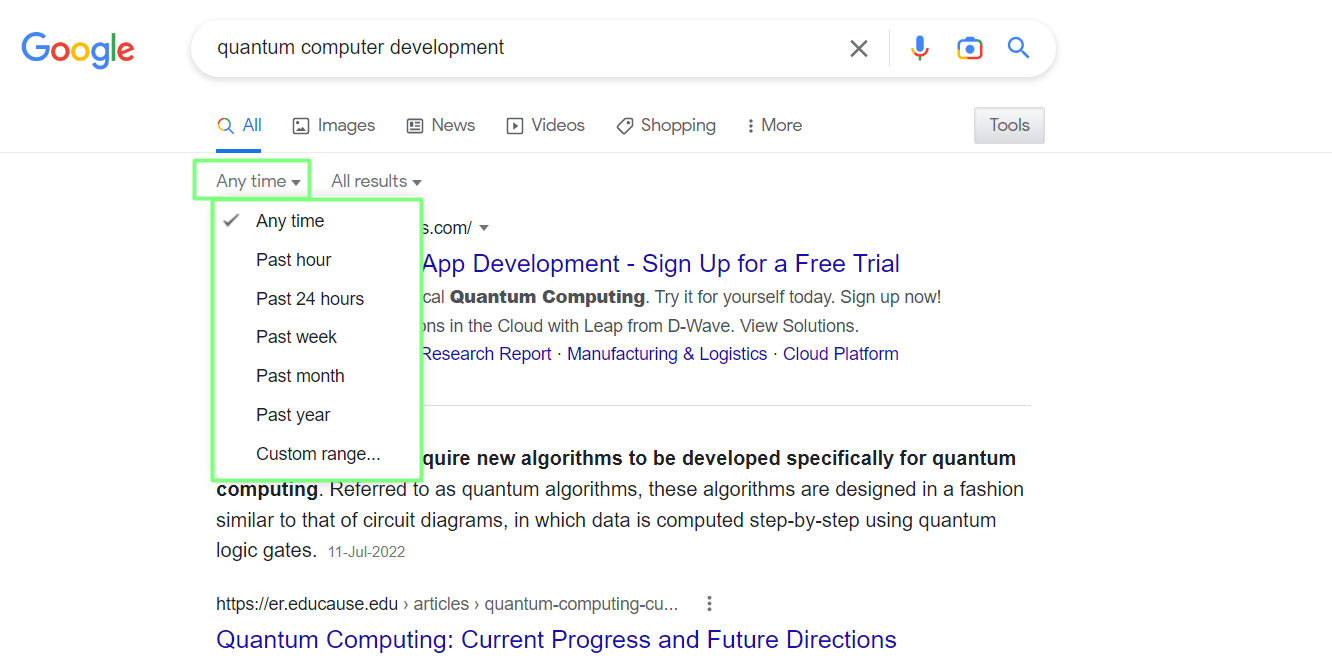 34. Start your Own Free Blog right away
Ideas, inspiration, and knowledge are meant to share, then why don't share it by creating a blog with smart Google Tricks? Just Follow the following steps: 
Step 01: Sign in to Blogger.
Step 02: On the left, click the Down arrow.
Step 03: Click New blog.
Step 04: Enter a name for your blog.
Step 05: Click Next.
Step 06: Choose a blog address or URL.
Step 07: Click Save
Start publishing your fresh blogs
35. Keep your Notes safe and sound (and never lost again)
Keep all your random notes and ideas organized and at your fingertips, on the go. Google Keep is one of the best note taking apps. It is a smart way to never lose your important notes.
Benefits of Google Keep:
– Easy to use
– Cloud based, so you never lose any of your notes
– Cross-platform availability
– Collaboration
click here to start using Google keep
36. Exclude words from your search
The minus (-) sign is the removal of multiple words from any search result.
With the minus sign, you're telling Google that you don't want to see any results that contain those particular words.
type 'your search term' '-your exclusion word' into google search bar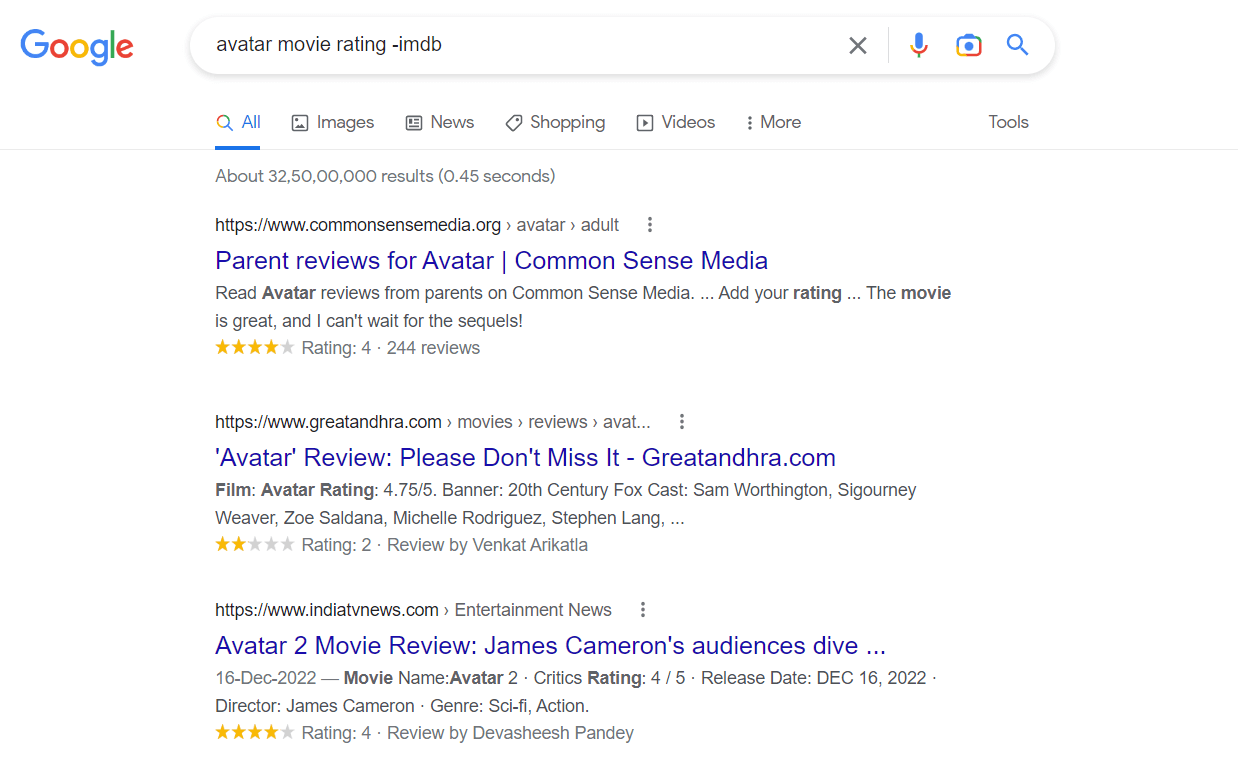 37. Find exactly what you want on Google
Use quotes to search for an exact phrase. For example, searching for "iphone 6" will return results with that exact phrase, rather than pages with those words appearing separately.
type "your query in a double quote" into google search bar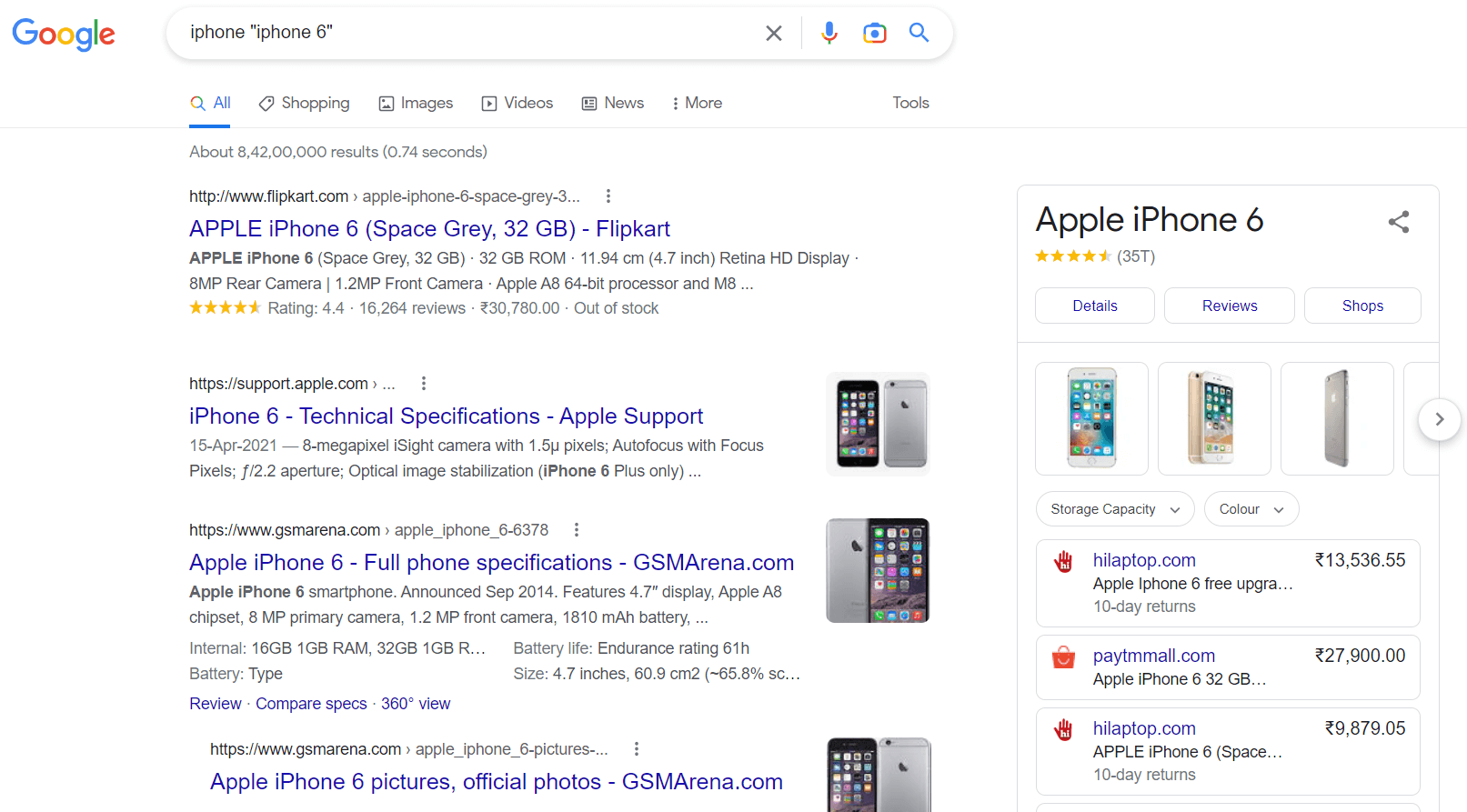 38. Do an Advanced Search
Advancing the level of smart search on google, by one of the simple Google search tricks. All you have to do is: 
Step 1: On your Android phone or tablet, go to Advanced Search: google.com/advanced_search.
Under "Find pages with," choose the query field/s to: 
Step 2: Enter the words that you want to include or remove from your results. 
Under "Then narrow your results by," choose the filters you want to use.
39. Suggest edits to a Place, Cafe etc
Google is always open to suggestions, and so is the integral part of Google, Google Maps. All you have to do is follow these simple steps: 
Step 01: On your computer, open Google Maps and make sure you're signed in.
Step 02: Search for a place or click it on the map.
Step 03: On the left, scroll down and select Suggest an edit. If you're using Maps in Lite mode, you can't suggest edits.
Step 04: Follow the instructions.
Step 05: Click Submit.
Google Tricks or Travelers
Travelling can be an incredible, enriching experience, but with a few Google tricks up your sleeve, it can be even more enjoyable and memorable. 
Google has a range of fun and useful features that can help you make the most of your travels and have a smoother, more enjoyable journey. Whether you're looking for the best places to eat, the most interesting sights to see, or just need some help getting around, Google has you covered. 
So next time you hit the road or take to the skies, make sure to utilize these helpful tricks to enhance your travelling experience.
One of the most useful Google tricks for travelers is the "near me" feature.
Simply enter the name of the location you are looking for, along with the instruction "near me," and Google will provide you with a list of options in your immediate area. This can be especially helpful when you are in an unfamiliar place and need to find a restaurant, gas station, or other business quickly.
type "watch repair shop near me" into the google search bar
If you need directions to one of these locations, you can also click on the "Directions" button to be redirected to Google Maps for detailed directions. This feature is one of the many ways that Google helps make your travels more convenient and enjoyable.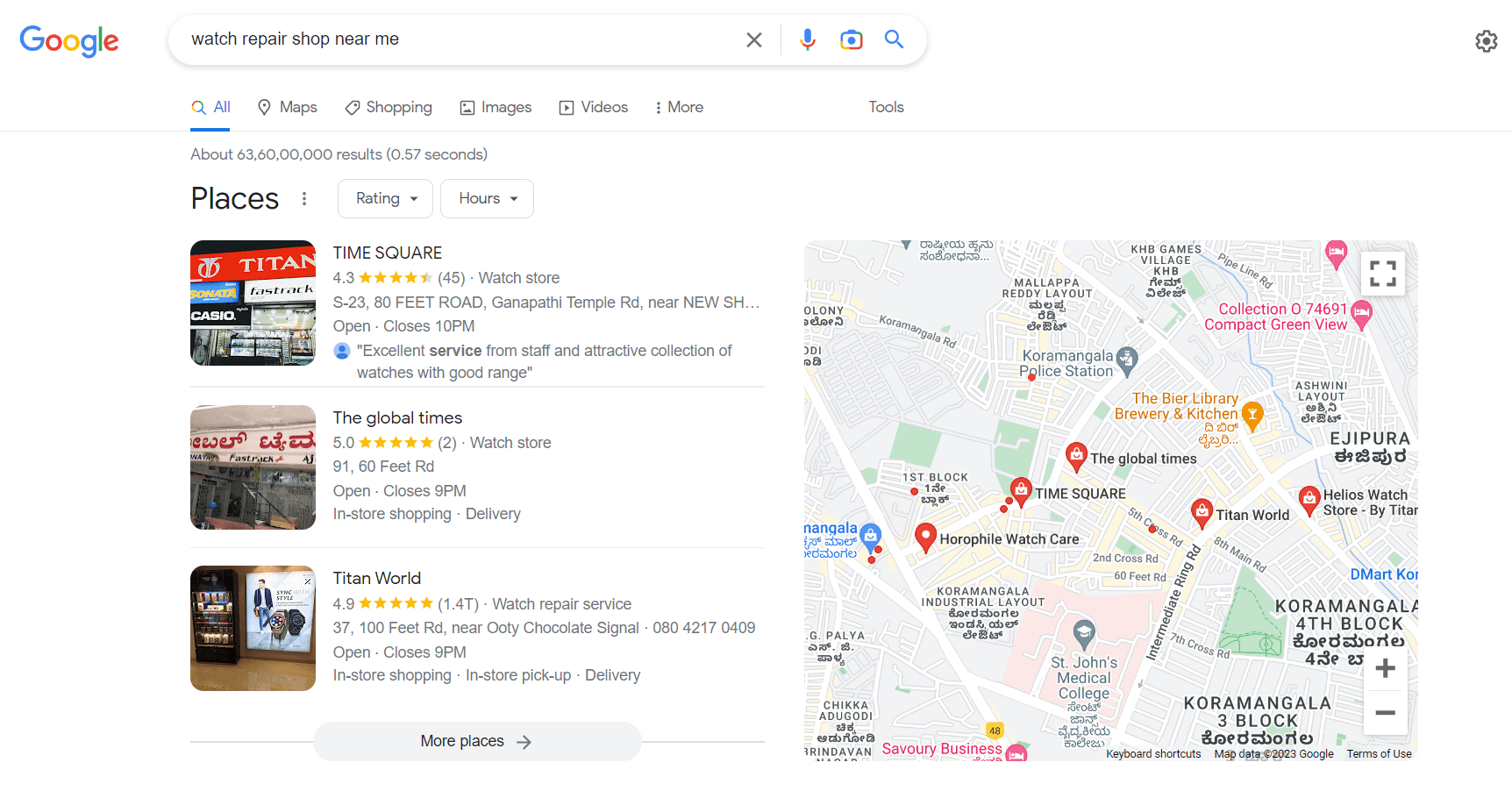 Need to know what time it is in this strange, unfamiliar land you find yourself in? No problemo! Just 
type "local time" into the Google search bar 
and BAM – Google will provide you with the current time for your location, like a magical genie in a computer.
No need to fumble with your phone or try to decipher strange, foreign clocks – just let Google do the work for you. So go ahead and use this handy little trick to impress your travel companions, or just to make sure you don't miss your flight home. Time flies when you're having fun, but with Google, you'll always know exactly how fast.
42. Get Flight updates on Google
Get an update on your flight's status in just a few seconds by entering your flight details in the Google search bar. 
Simply type in your flight number or airline and destination, and Google will provide you with the latest information on your flight's status, including departure and arrival times, gate information, and any delays or cancellations.
type "flight number (AI773)" into Google Search bar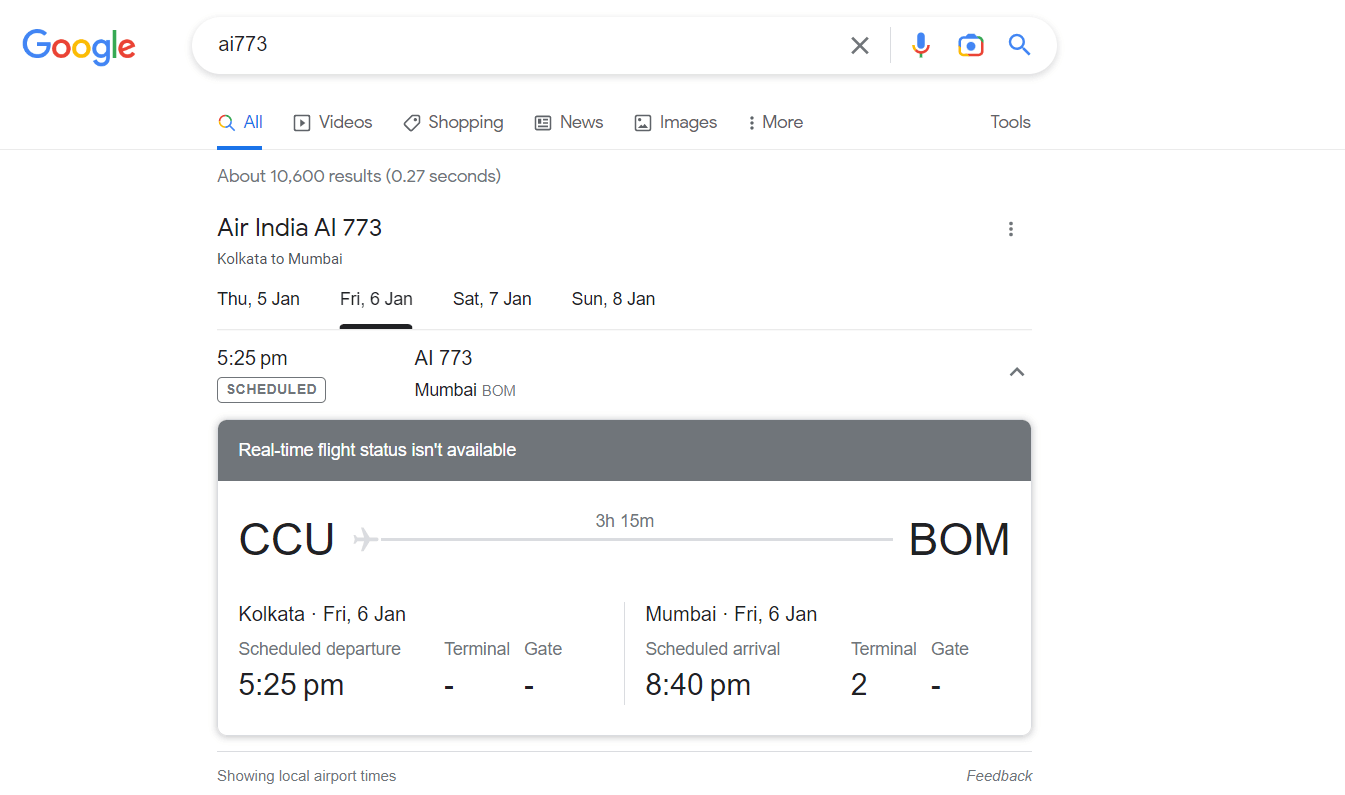 So next time you need to check on your flight, save yourself the hassle of calling the airline or visiting their website – just use this handy little Google trick to get the information you need.
43. Check distance between two places
Want to know the distance from your current location to a specific place? It's easy!
Just type the name of the location into the Google search bar, followed by the phrase "from me." Google will use your current location to calculate the distance to the specified place and provide you with an accurate result.
type "place name + from me" into Google Search bar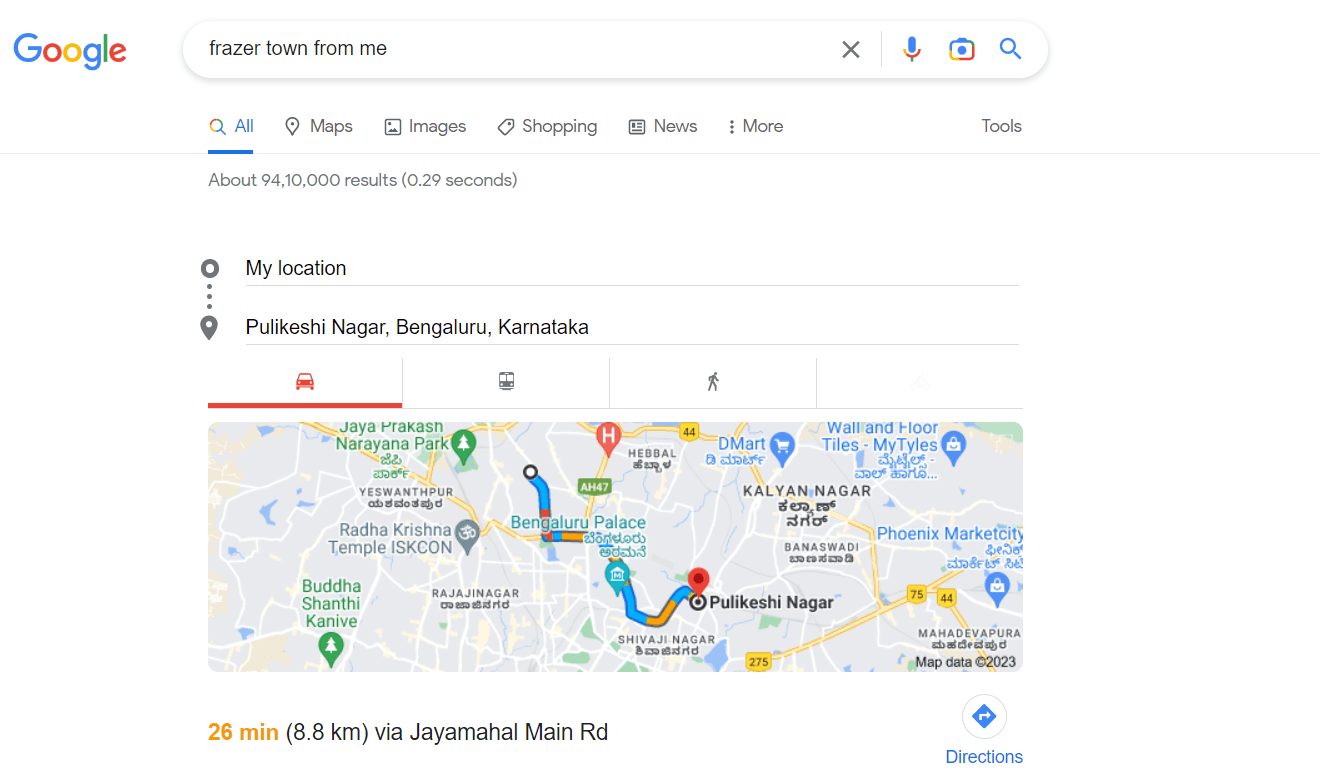 44. Find Out When the Sun Will Rise/Set
Want to make sure you don't miss the beautiful sunrise or sunset at your current location? 
Just type "sunrise" or "sunset" into the Google search bar as shown below and let Google do the work for you. 
With just a few clicks, you'll get the local time for sunrise or sunset at your location, so you can plan your day accordingly. This handy little trick is especially useful for travelers or anyone looking to catch a glimpse of the natural beauty of the day. 
type "sunrise or sunset" into Google Search bar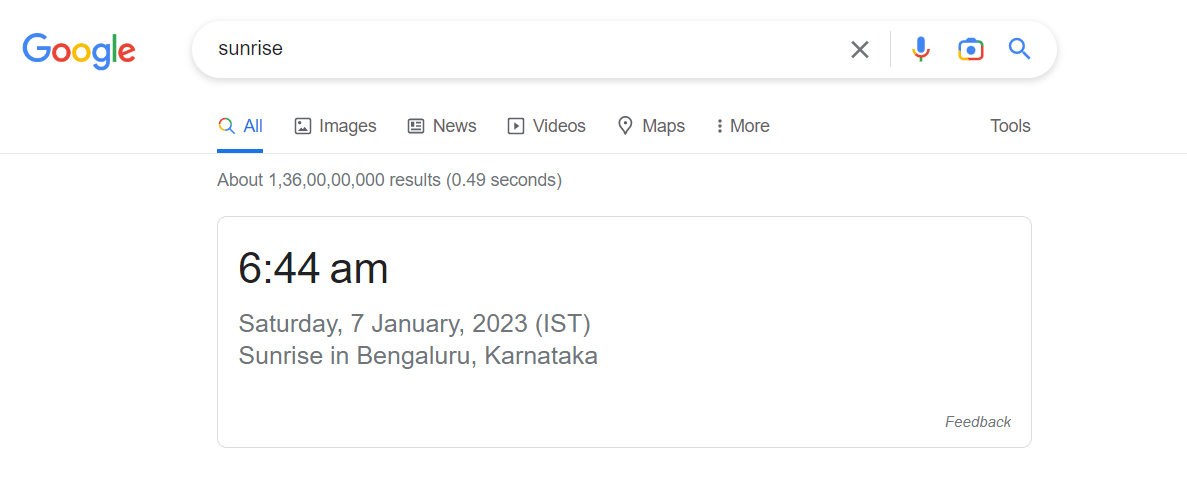 45. Find out what song is playing near you
Don't know which song is playing next door or playing in your mind the whole day, this little Google hack will save your day. 
Just touch and hold the Home button for Google to listen and catch the song  or say "Hey Google."  and ask "What's this song?" Play a song or hum, whistle, or sing the song. Google Assistant will identify and roll out the potential matches for the song.
Step 1: Activate google assistant by holding the home button
Step 2: Voice command a. Hey Google b. What's this song? 
Attention all SEO ninjas! this google tricks will help you do SEO in an optimum way that will save a lot of effort and time.
46. Search Within a Specific Website
Want to make your search a little more extensive, Google search tricks got you covered by making a search within a specific website. Just
type "site:sitename keyword" into google search bar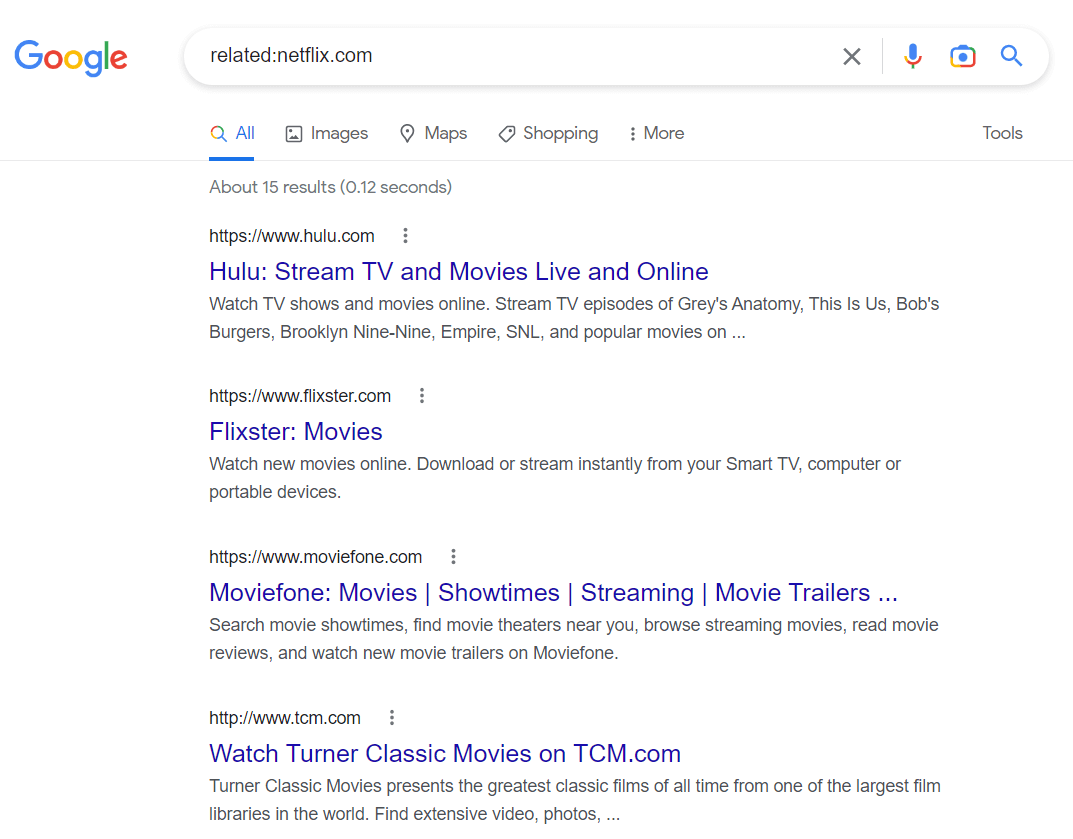 47. Monitor your Website for Free with Google Analytics
If you want to monitor your website's performance and gather valuable insights about your website's traffic, one tool you can use is Google Analytics. 
This free tool from Google allows you to track a variety of metrics, such as the number of visitors to your site, the pages they visit, and the sources of traffic to your site. 
With Google Analytics, you can identify trends, optimize your content, and make informed decisions about your website's strategy. 
To get started with Google Analytics, you'll need to sign up for a free account and install the tracking code on your website. Once you've done that, you can start exploring the wealth of data available to help you improve your website's performance.
48. Get SEO tool for Free - Google Search Console
The search engine currently accounts for 70% of all searches, their SEO tools harness the most accurate and comprehensive source of data.
The best part of using these tools is that they're absolutely free and generally unlimited.
type "google search console" into Google Search bar 
49. Google Can Read Images!
As we say, a picture is worth a thousand words and Google can read these words. Google do read the text of images with OCR (Optical Character Recognition) Technology. So, whenever you create an image or infographic make sure you have used keywords within the text of the images.
50. See Google Results for a Different Country
Want to expand the geographical horizon with Google, explore different country's Google by following these simple steps:
Step 01: On the Google app. At the top right, tap on your Profile picture or initial settings of language & region. Search region.
Step 02:Tap the region you want to get search results in.
51. Do Keyword Research using Google
– Google Suggestions
– Keyword Planner
Using Google Keyword Planner for a Keyword Research
Adding keywords enhances your search rank on Google, but how to crack the suitable keywords for your business?
Follow the following steps to elevate the search rank of your business:
Step 01: Access the Google Keyword Planner.
Step 02: Choose Your Tool.
Step 03: Filter and Sort the Results.
Step 04: Analyze the Keyword Ideas Section.
Step 05: Choose a Keyword.
Using Google Suggestions for a Keyword Research
To use Google Suggest for keyword research, follow these steps:
Step 1: Go to Google.com and start typing your topic or keyword into the search bar.
Step 2: As you type, you will see a list of suggestions appear below the search bar. These suggestions are based on the most popular searches related to your keyword.
Step 3: Take note of the suggestions and consider using them as keywords for your content.
Step 4: You can also use the "Explore topics" feature, which appears to the right of the search bar when you start typing, to see a list of related topics and their corresponding keywords.
Step 5: Repeat this process for different variations of your keyword to get a comprehensive list of relevant keywords.
By using Google Suggest, you can identify popular and relevant keywords to target in your content, helping you to improve your search engine optimization (SEO) efforts.
52. See Google's cached version of a site
Get Google's cached version of a site by following these three steps of Google tricks: 
Step 01: Do a Google search for the page you want to find.
Step 02: In search results, next to the site's URL, click the down arrow or three dots. 
Step 03: Click Cached.
Step 04: To go to the live page, at the top, click current page.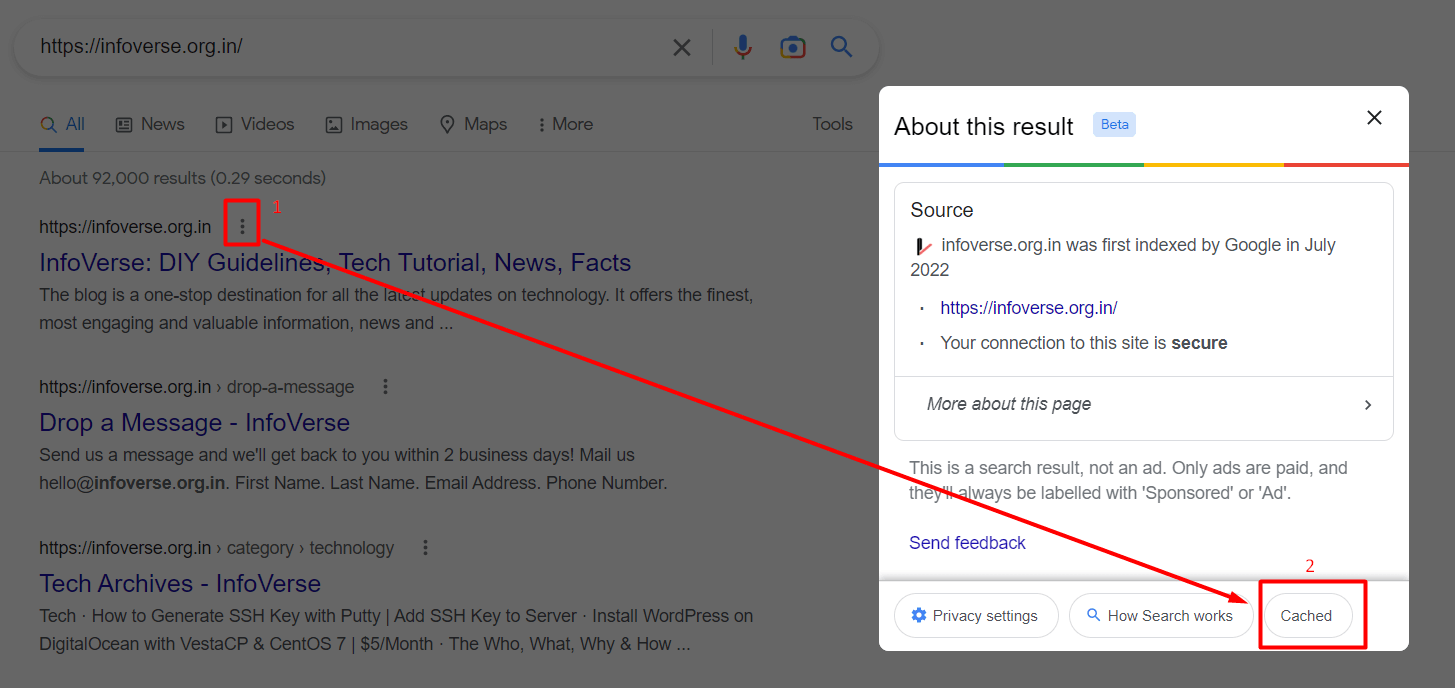 Google tricks can be enjoyed by people of all ages, including kids. Some fun tricks that kids might enjoy include:
53. Animal Sounds for kids
If you want to introduce your child to the sounds of different animals, Google has a handy trick for that! 
Simply type "animal sounds" into the search bar and a list of various animals will appear, each with a speaker icon. Click on the speaker icon to hear the corresponding animal sound. 
This is a quick and easy way to help your child learn about the different animals and their sounds. Plus, it's a fun and interactive way to engage your child's curiosity and love of learning. 
Don't miss out on this opportunity to expand your child's knowledge and have a bit of fun at the same time.
type "animal sounds" into Google Search bar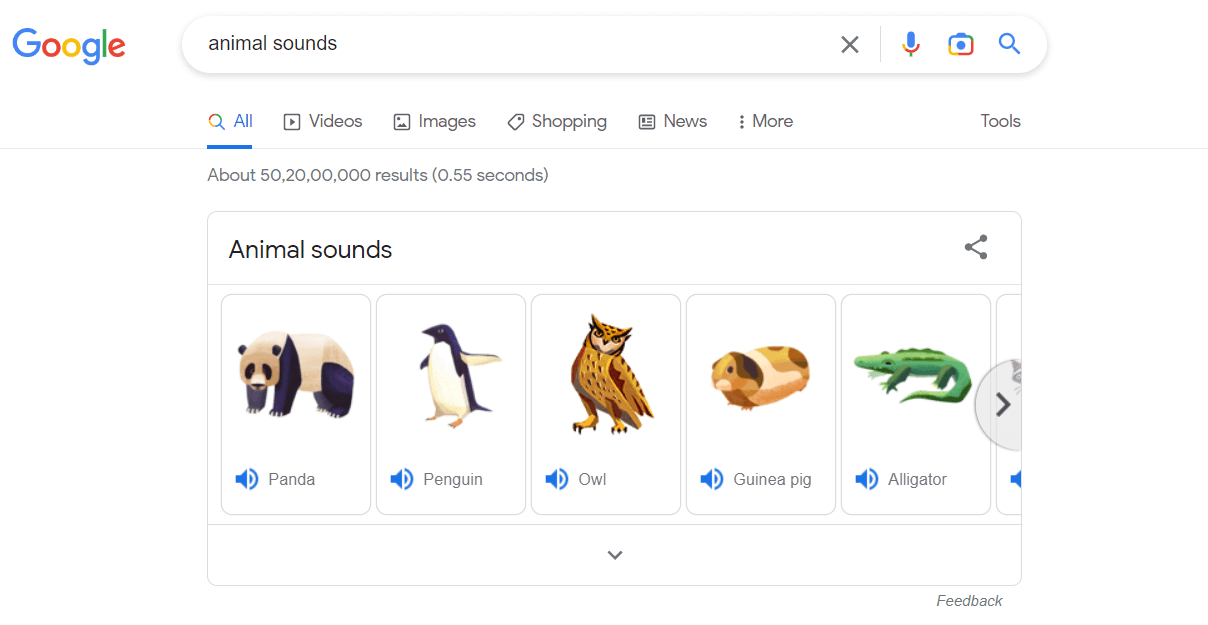 54. Kids Search Engine & Google for Kids | Safe Search
Google tricks are both fun and responsible. Typing kids search engine on the google search bar leads the user to a child-friendly browser, limiting his/her search to the appropriate results.
Visit: www.safesearchkids.com
Safe Search Kids is a custom search engine enhanced by Google to allow everyone to search the internet more safely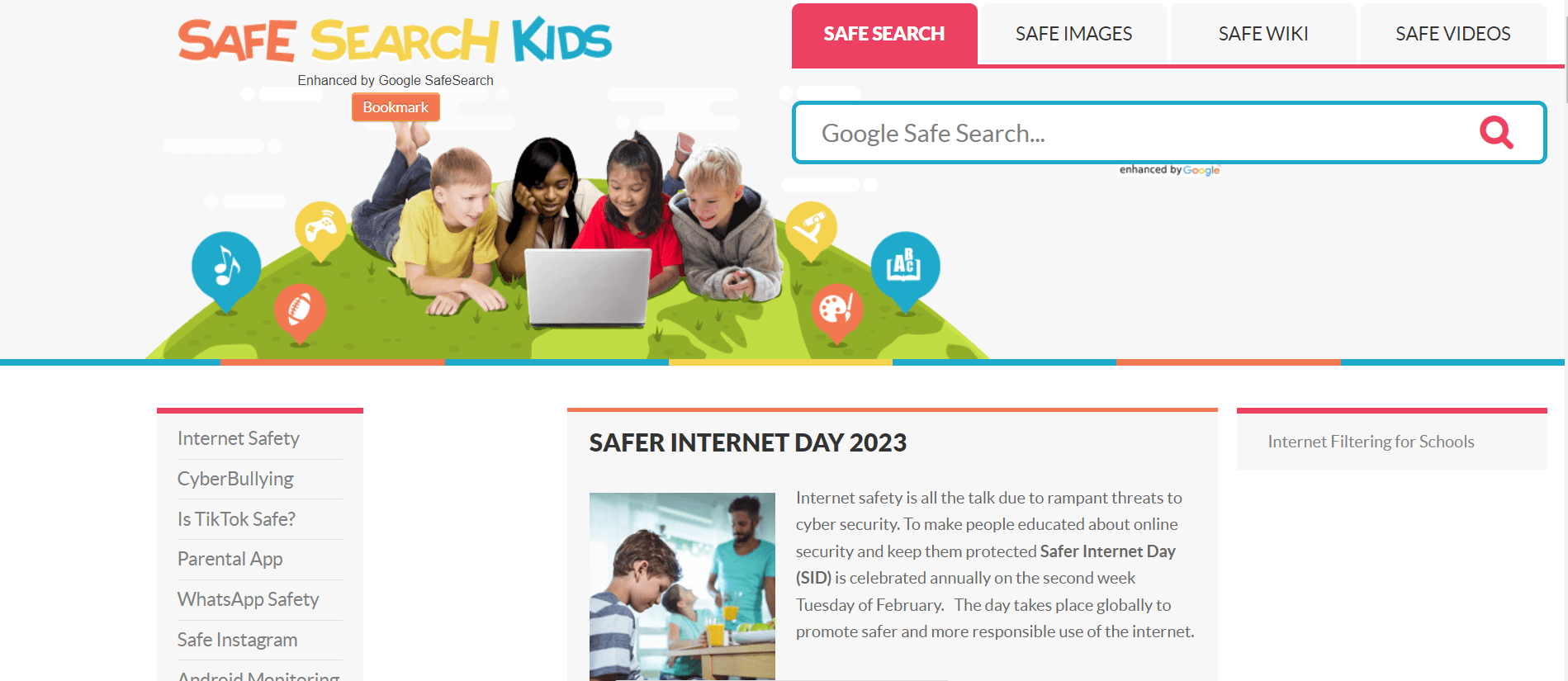 55. Teach Computer Science & Coding to Kids Game
The world of google tricks holds a knowledgeable path of computer science education.
Visit: csfirst.withgoogle.com
Google has a series of engaging games for kids. They have created these games with the idea of teaching them the concept of computer science & coding in a fun way.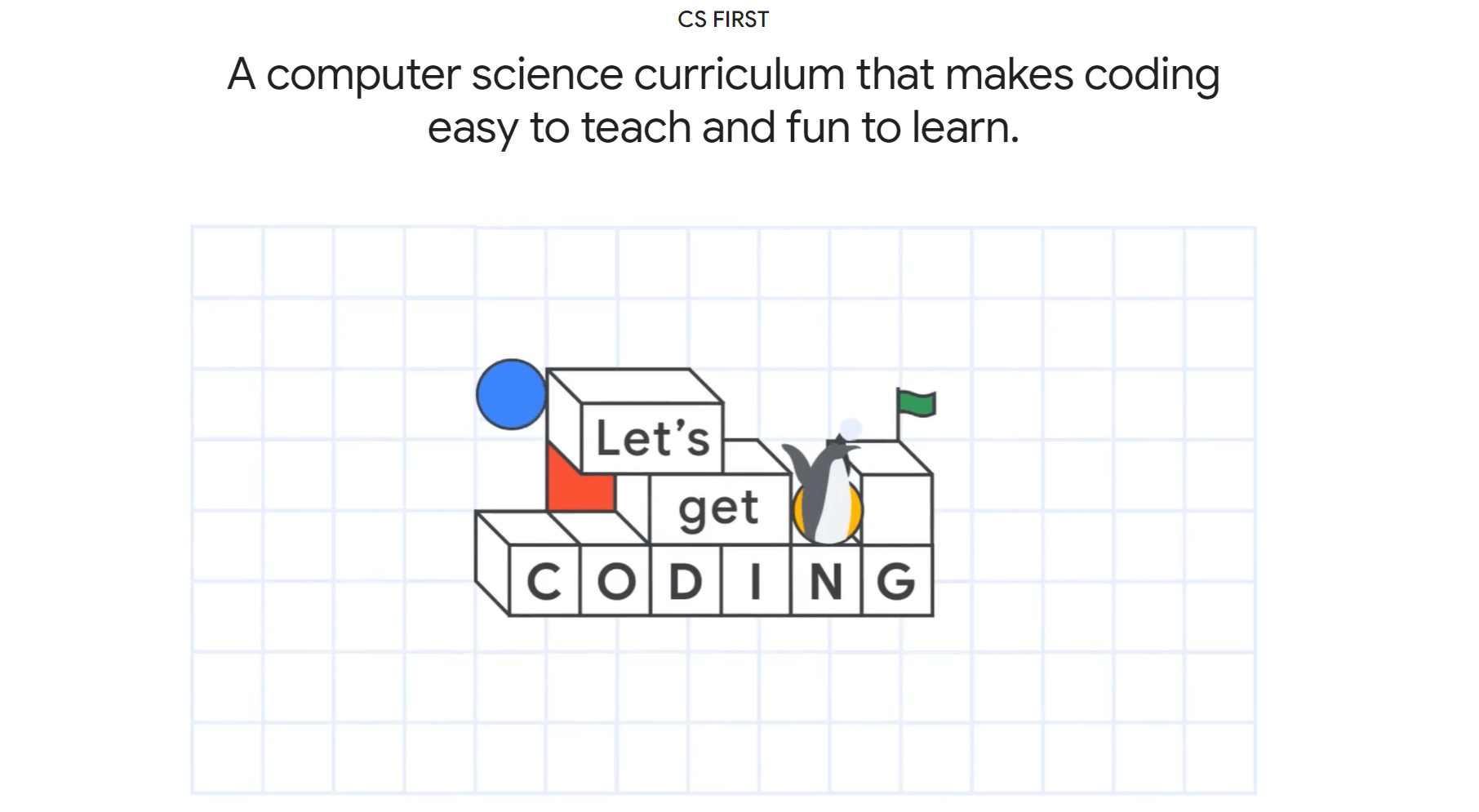 You can use incognito mode while searching for something that you don't want to appear in your history. Leaving no trace, incognito mode helps you to keep your search safe.
On your chrome browser press "shift+ctrl+n" to open a new tab on incognito mode
57. Google Color Picker for Designers
Color Picker is a valuable tool for anyone working with digital color, whether they are web designers, graphic designers, or simply looking to add a splash of color to their personal projects.
This little Google hack provides a simple and convenient way for users to choose and customize colors for their projects, without having to use specialized software or manually calculate and input color codes. It also includes a range of advanced options, such as the ability to adjust hue, saturation, and brightness, and to view and compare different color combinations side-by-side.
type "google color picker" into Google Search bar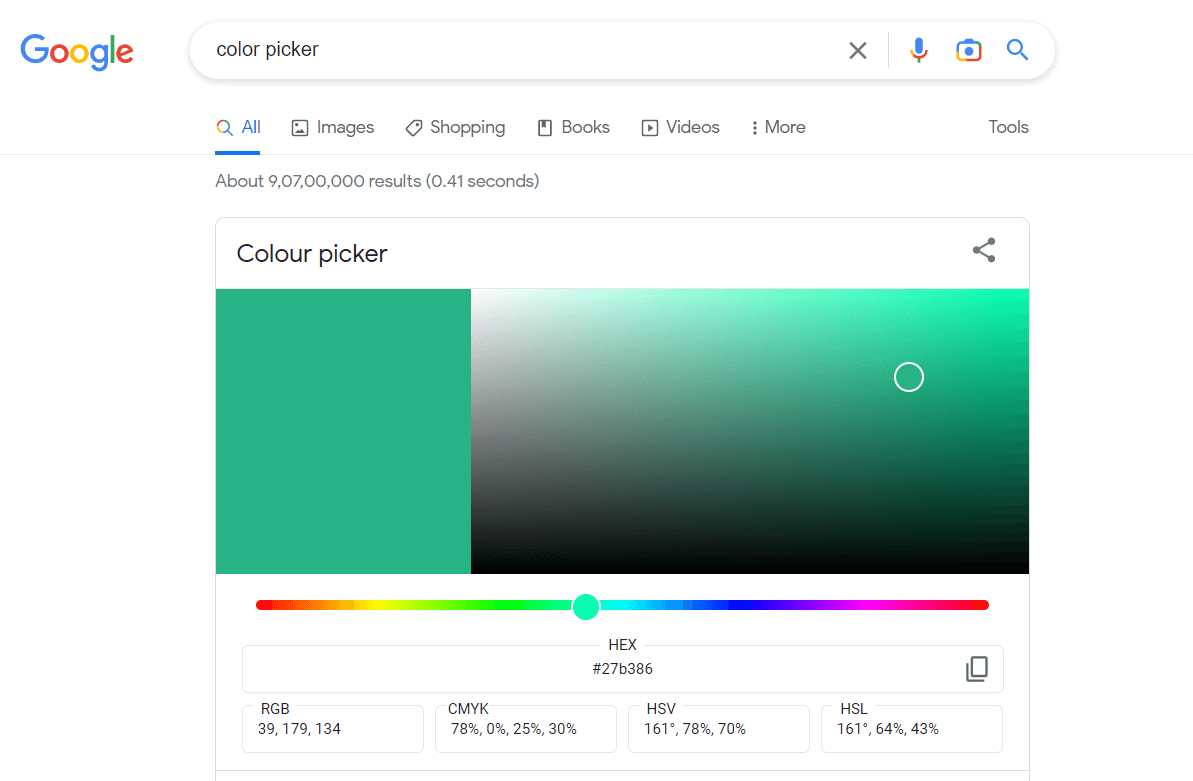 Google Hack for Musicians
If you are a musician without your trusty portable guitar tuner, Google can help you tune your six-string by summoning a fully functioning tuner in any web browser. This can be a lifesaver if you are stranded somewhere and need to quickly tune your guitar.
type "google tuner" into Google Search bar 
A metronome is a device that produces a steady beat at a chosen tempo, usually measured in beats per minute (BPM). 
This beat can be used to help musicians keep time and play in rhythm. In daily life, a metronome can be useful for activities that require a steady tempo, such as dancing, running, or practicing musical instruments. It can also be helpful for people who want to improve their sense of rhythm or who need a consistent tempo to help them stay focused while working or studying. 
Some people may also use a metronome as a meditation aid to help them maintain a steady breath or focus their mind. Overall, a metronome can be a versatile and useful tool for many different activities.
type "google metronome" into Google Search bar 
Conclusion
With our Googlepedia of Google tricks, every user irrespective of age would definitely see an unimaginable experience that Google brings to the table. 
Google opens a new world with its fun google tricks. Google is an undiscovered sea of tricks & tips. Holding millions of exciting tricks, Google not only brings ease but also elevates the element of fun and learning in the life of users. 
Easter eggs are hidden features or jokes that can be found in Google Search Engine Result Page (SERP) by performing certain actions or entering specific commands (easter egg). They can take the form of games, funny responses, or references to popular culture. They are added to products to provide a bit of fun and surprise for users who discover them.
To do the Google Gravity trick:
Go to Google in your web browser and search for "Google Gravity"
Click on the first result, which should be a link to the Google Gravity website.
Wait for the page to load, and the Google logo and search bar will fall to the bottom of the page as if being pulled down by gravity.
You can interact with the page by clicking and dragging the different elements around.
Note that this trick is simply a visual effect and does not affect the functioning of Google or your search results.
Google Gravity: Causes the Google logo and search bar to fall to the bottom of the page as if being pulled down by gravity.
Do a barrel roll: Causes the search results page to do a 360-degree spin.
Google in 1998: Takes you to a Google search page that looks like it did in 1998.
Zerg Rush: A mini-game in which you must defend the search results page from falling "O"s by clicking on them.
Askew: Tilts the search results page slightly to the right.
Google sphere: Turns the search results page into a 3D sphere that you can rotate by dragging your mouse.
Google pac-man: Lets you play a version of Pac-Man on the search results page.
Google terminal: Takes you to a text-based interface that looks like a terminal window.
Google guitar: Lets you play a virtual guitar using your keyboard.
Google images Easter eggs: Shows you a variety of images with hidden tricks or Easter eggs.